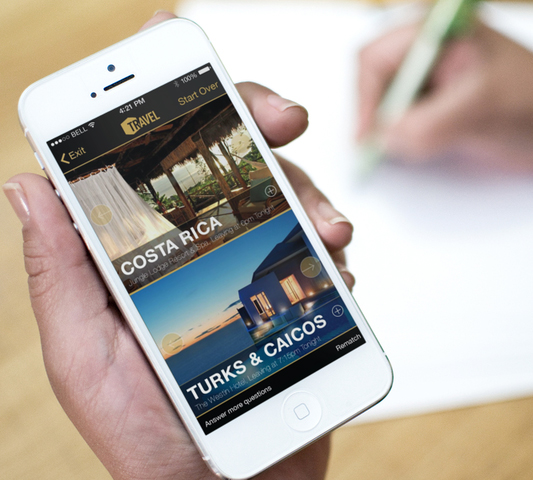 BlackBox Travel
Case Study: Black Box Travel is a mobile app for high-end, last minute travelers.
Problem: Choice can be overwhelming, especially when it comes to travel. Some may relish advance planning with endless scrolling through lists of hotels, flights, site-seeing activities, and figuring out how to redeem those miles, but our key-demo simply doesn't have the time. Existing all-inclusive packages are touristy and lame, not to mention restrictive.
Solution: By entering a few key preferences like climate, hotel, and activities through an interactive survey, users are presented with two all-inclusive, personalized packages. Plus the app provides a level of spontaneity whereby there are two great options presented both at booking and throughout the trip for local restaurants and activities catered especially to surprise and delight the user, allowing them to choose their own adventure as they go.
Context: This was developed as a part of an intensive week-long User Experience Workshop through the New School and General Assembly. I worked with a team of six, my role included helping with prototyping, sketching, user research, persona development, and the final UI Design.
Research + Development
Rachel wants to take a vacation but she doesn't know where she wants to go. She is so busy with work and wants to escape the cold weather but she doesn't have time to plan.
Her Goal: She has a 3-day weekend ahead and wants to escape the NYC winter weather and relax somewhere tropical, she doesn't care where exactly.
She pulls out her phone 1) opens the app, and tries to figure out where to go. The app then 2) asks her dates of travel and intended budget. After that, she 3) is directed to a set of questions regarding Climate, Activities, Food, and Hotel preferences. From there the app generate 2 complete package she can choose from or she can cancel for new options. She 4) is presented with two packages. Rachel likes the fact that the options are straightforward, clearly presented and catered to her interests with unknown surprises along the way and she decides to make her travel selection. Within moments, Rachel is 5) able to create a profile to book and confirm this package, and gets an email confirmation. After sailing through the airport security and arriving to the hotel, she 6) is given push alerts throughout the trip for booked.